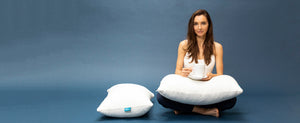 The world's most
relaxing pillow.
CBD-INFUSED FABRIC creates all-night calm
NATURE'S SAFE, ALL-NATURAL SLEEP AID
How Does It Work?
The CBD Pillow is infused with patented micro-encapsulation technology that embeds millions of CBD microcapsules into your pillow. Unlike topicals or edibles, our CBD Pillow slow releases microdoses of CBD all night.

Friction causes the capsules to burst, slowly releasing the CBD. The CBD is then absorbed directly through your hair follicles & skin to help regulate your sleep evenly throughout the night. The result is a relaxing calm so you sleep better.
Learn More
2020 AWARD WINNER
Most Innovative
CBD Product
The World's Most Relaxing Pillow
Crafted Just for You
Everyone deserves to experience the calming benefits of CBD in a safe, natural way. Everyone also deserves hand-crafted comfort. Our pillows are made in the U.S.A., hypoallergenic, have a supportive gel memory foam core, and come with a 10 year craftsmanship guarantee. Did we mention you can customize the firmness of your CBD Pillow? This is really the best pillow ever. 
Shop Now
Feel Balanced & Rested
Guaranteed
If you don't have the most relaxing, rejuvenating sleep you've ever had, return your CBD Pillow for a full refund, guaranteed.
SHOP NOW
What Others Are Saying
Join the millions of people using CBD to help get the perfect night's rest, and learn why the CBD Pillow is perfect for you.